Dr. Fochios uses a number of NPAID (non pharmaceutical anti inflammatory devices) to aid in the healing process.
THE ASSISI LOOP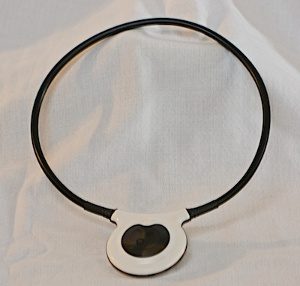 The Assisi Loop is a non-invasive, disposable, targeted Pulsed Electromagnetic Field (tPEMF™) device that enhances healing by accelerating the reduction of swelling and pain. 85% of veterinary professionals who have submitted case reports to Assisi Animal Health say they would likely recommend the Assisi Loop to a colleague.
Assisi's products are based on the same pulsed electromagnetic field (PEMF) technology as the human applications developed by Ivivi Health Sciences, a leading innovator in PEMF therapy. Their products are FDA-cleared for post operative treatment of pain and edema in soft tissue anywhere on the body. Assisi has licensed Ivivi's technology for veterinary use in animal health applications. See the video below:
For More Information:
Assisi Loop FAQ
Assisi Loop Website
---
COLD LASER THERAPY



Cold laser therapy is a relatively new technology compared to many alternative therapies like acupuncture (which has been used since 8000-3500 B.C.), chiropractic (since 1895) and physical therapy. The first cold laser was FDA cleared in 2001. Cold lasers are sometimes called Low Level Lasers (LLL) or soft lasers.
In general, cold lasers can be used in 2 distinct ways:
Targeting acupuncture trigger points (similar to acupuncture but without the needles).
Broad coverage of tissue and bone with IR or Red light photons to reduce pain and stimulate healing.
Cold Laser therapy offers a non-intrusive option to acupuncture and surgery. It also provides a non-addicting treatment that eliminates the complications of long-term drug treatment programs. Cold lasers are FDA cleared and widely use for treatment of:
Acute and chronic pain
Ligament sprains
Muscle strain
Soft tissue injuries
Tendonitis
Arthritis
Tennis elbow
Back pain
Bursitis
Carpal Tunnel Syndrome
Fibromyalgia
The goal of laser therapy is to deliver photons (light energy units from red and infrared laser radiation) to damaged cells. It is the consensus of experts that photons absorbed by the cells through laser therapy stimulate the mitochondria to accelerate production of ATP (Adenosine triphosphate). This biochemical increase in cell energy is used to transform live cells from a state of illness to a stable, healthy state. Over 4000 studies have been conducted in recent years to validate the effectiveness of cold laser therapy.
Benefits of Cold Lasers include:
Easy to apply
Extremely safe
Non-Toxic
Non-Invasive
No side effects or pain
Cost effective for both the practitioner and patient
Highly effective in treating ailments (more than 90% efficacy)
Superior alternative to analgesics, NSAID's and other medications
Reduces the need for surgery
Works synergistically with other modalities like Chiro, Acupuncture, and PT
Therapeutic Laser Effects:
Increased Cell Growth
Increased Metabolic Activity
Faster Wound Healing
Anti-Inflammatory Action
Increased Vascular Activity
Reduced Fibrous Tissue Formation
Stimulated Nerve Function
Pain Reduction
Dr. Fochios uses Erchonia cold laser devises. To visit their website click here.

---
Please call 828 254-2773 or email us for an appointment.